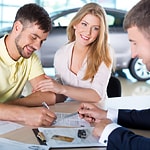 If you have ever thought about refinancing, you should also look at trading in your vehicle at Brustolon Buick GMC located in Mystic, CT. Refinancing simply means that you want to lower your car payment by getting a new, decreased interest rate. However, refinancing can also change the length of the loan as well.
Trading in your car is faster and offers more benefits if you simply want a new car with more technology and driver assistance features. Many customers have car payments that equal 30 to 40% of their current monthly budget, so it's faster to lower payments by trading in your car instead of refinancing.
Refinancing offers take time to complete, but trading in your car can take only one day if you're ready for something new right away. You can see all of the options and get out of higher car payments just by trading in your vehicle for a new one.