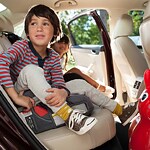 Pre-planning is critical when it comes to road trip safety. A great first step to any trip is having your vehicle inspected and serviced by the team at Brustolon Buick GMC in Mystic, CT before you hit the road.
Mapping out your route ahead of time and investing in a tech-based navigation system if your vehicle doesn't already have one can keep you from ending up somewhere that's not your intended destination. You should also take time to notify a few close family members or friends of your travel plans, and be sure to mention your expected date of return.
Regardless of where you're planning to travel, always keep a supply of water and shelf-stable snacks in your vehicle in case you find yourself stranded by the road. A backup charger, a first aid kit, a flashlight, and a small amount of emergency cash are also handy to have around.